Managed Exchange Server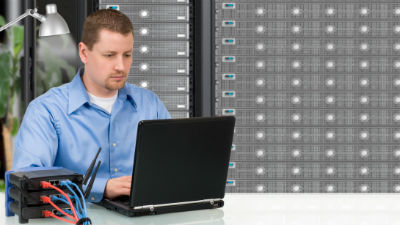 Apps4Rent offers you managed Exchange hosting for shared as well as dedicated server. While, shared Exchange hosting plans starting at $6.95/month are a great value, larger companies may benefit from fully managed dedicated hosting environments. Managed dedicated Exchange server solutions are designed to cater to the needs of businesses that require more control, customization, redundancy, and scalability without the headaches of day to day management of hardware and application infrastructure. These products come with 24×7 monitoring and support. You can get shared or dedicated Active Directory servers and multiple Exchange servers for High Availability. Plans start at $600/month.
What are the Advantages of our Dedicated Exchange Server Hosting over Shared Exchange Hosting?
Single sign on using a dedicated Active Directory is available. This makes it easy to authenticate your company's users.
With a hosted exchange server, the mailbox size is limited by the server configuration and not by the hosting provider.
Dedicated managed Exchange server hosting can be customized to comply with company, industry, and regulatory practices.
Some companies prefer the security of dedicated and managed exchange hosting.
Some companies who require deeper integration of exchange with in-house software applications prefer dedicated exchange server hosting.
Managed Hosted Exchange Server Features
Fully managed exchange server hosting for customers at an affordable price.
Server includes ActiveSync license for users included in the dedicated exchange server hosting plan. Users can synchronize with mobile devices such as iPhone, Android phones, Windows mobile based devices, Nokia phones, and Palm devices. BlackBerry Enterprise Server option is available.
Connect via common mail protocols: Outlook MAPI, Outlook RPC over HTTP, Outlook Web Access, IMAP, IMAP, POP3, POP3S, SMTP, & SMTPS.
Each hosted exchange server is monitored 24 X 7. The advantage of managed exchange server hosting is that the customer does not need to spend valuable time and resources in managing the server.
24 X 7 support on chat/phone and e-mail.
No mailbox size limits a dedicated hosted exchange server plan.
Clustered Transport and Active Directory server in shared environment with increased redundancy.
Server infrastructure is located in SSAE 16 certified datacenters.
Managed Exchange server hosting includes a fully featured control panel for managing users. The control panel is tightly integrated with our shared and clustered Active Directory server.
Scalable solution by adding redundant mail servers in clustered mode for High Availability.
Free Enterprise Grade Anti Spam/Firewall solutions.
Flexibility to use your existing Anti-Spam/Firewall solution for dedicated exchange hosting.
Bulk provision of users/groups/contacts is possible.
E-mail branding with template based features is available for organizations that adhere to a standard and consistent look and feel which reflects corporate image.
Weekly Backups are included. Daily Backups are available on request.
Optional SSL for Control Panel and Outlook Web Access for a hosted Exchange server.