QuickBooks to Dynamics 365 Business Central Case Study
Background:
An SMB in the automobile industry was using QuickBooks Desktop for their accounting needs. For a business that is rapidly growing, the desktop solution was proving to be restrictive as it lacked the required scalability. For a brick-and-mortar business, tracking inventory is one of the most important requirements. The customer realized that they needed more powerful tools for auditing their inventory along with better security.
With these considerations, the customer realized they need a wellrounded Enterprise Resource Planning (ERP) solution in place of the finance-focused QuickBooks Desktop installation. The customer had already tried to migrate to Dynamics 365 Business Central, a cloud version derived from the Dynamics Nav ERP product line, but was unable to do so because of the complexity of the process.
Apps4Rent Azure Solution:
After a good interaction with the customer, Apps4Rent experts gathered that they already had an Office 365 subscription. Additionally, they were keen on transitioning from their on-premises QuickBooks Desktop to the cloud-based Dynamics 365 Business Central ERP solution. One of the major implementation requirements was to secure their system with advanced features such as Multi-Factor Authentication (MFA).
The migration of the customer's QuickBooks data to Dynamics 365 Business Central required functional knowledge of financials and inventory to appropriately map and import data into the right fields in Dynamics 365 Business Central. With deep collaboration with the customer and their external stakeholders, Apps4Rent engineers were successful in migrating all the data and integrating Office 365 features.
Results:
Apps4Rent engineers were able to migrate all the content from the QuickBooks Desktop solution to Dynamics 365 Business Central despite the lack of documentation and tools optimized to perform such a migration involving non-standard implementation. Within a few weeks, the customer was able to take full advantage of the advanced features of the cloud-based Dynamics 365 Business Central ERP solution with features like advanced security services, better integrations for auditing their inventories, more customizable reports, and business intelligence tools.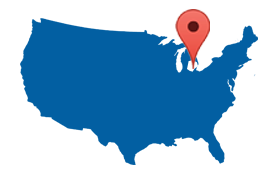 Company Type
Small and Medium Business, Detroit
Industry
Automobile
How Can Apps4Rent Help?
Talk to our representatives now to help you in offering unique solutions on Azure.
US Toll free: 1-866-716-2040
International: 1-646-506-9354