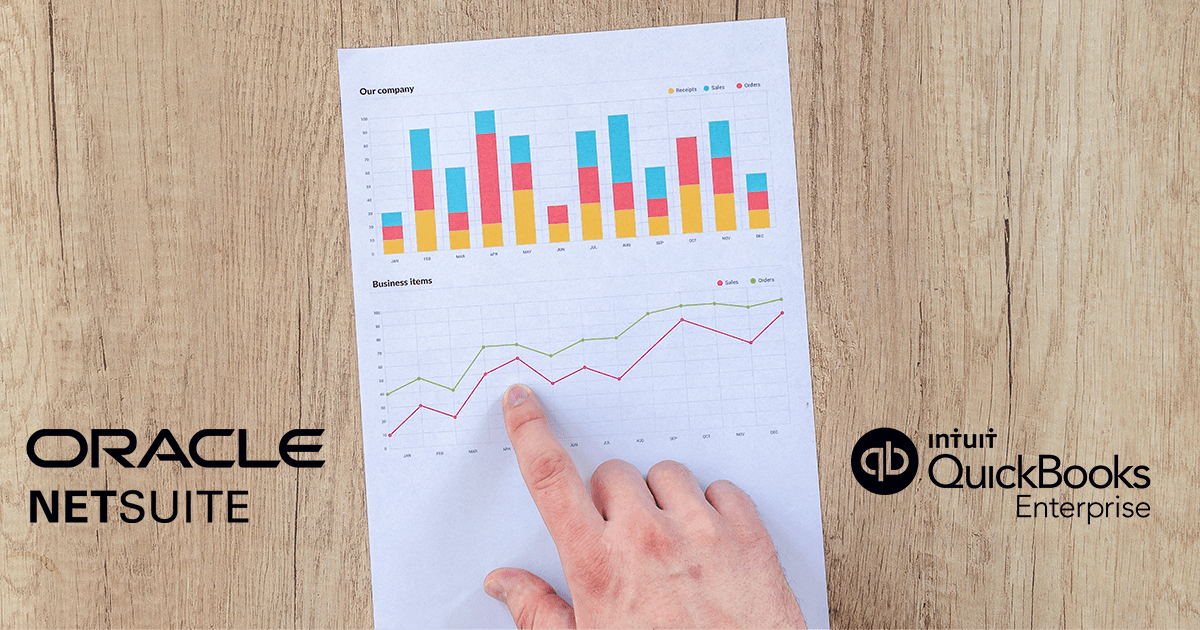 QuickBooks has been the preferred accounting software for small and medium business for nearly three decades. It has an intuitive user interface that is simple to navigate and supports several integrations for various functions of HR, banking, and other aspects that are necessary for running a business successfully. Without a doubt, QuickBooks has become the go-to option for small businesses that primarily require an accounting solution. However, as businesses grow, they require an integrated approach for handling operations. Such businesses gravitate towards a more comprehensive solution like Oracle NetSuite that includes other enterprise-grade applications in addition to accounting and finance.
This is a comparison between Oracle NetSuite vs QuickBooks Enterprise to find out which software works better for you.
Overview of NetSuite vs QuickBooks
QuickBooks products are built particularly to meet the requirements of small and medium businesses. They are relatively lightweight and easy to use. QuickBooks has desktop-based, web-based, and cloud-based solutions that can cater to the needs of individuals as well as relatively larger enterprises.
NetSuite, on the other hand, is primarily a cloud-based suite. It is not an individual application but a collection of different software packages that can operate as a standalone solution or in tandem with others. These encompass business processes finance, billing, revenue, inventory and order management, fixed assets monitoring along other aspects. Some of the applications that Oracle NetSuite offers are stated below.
CRM and ERP system.
Accounting software.
HR solution.
Marketing and Sales tools.
Analytics and business intelligence applications.
All these entities along with many others are built on a cloud-based platform that makes it easy for businesses to extend and personalize as businesses grow.
QuickBooks vs NetSuite Comparison
Although QuickBooks and NetSuite have been around for roughly the same duration, they cater to different userbases. With over a million customers, QuickBooks is the most popular accounting software among small businesses. Its customers are likely to belong to one of the following categories.
Individual business owners and contractors.
Accounting firms and financial services.
Religious and non-profit organizations.
Small and medium businesses.
Professional services.
Manufacturing, wholesale and retail businesses.
Oracle NetSuite, on the other hand, is primarily designed for larger businesses. Its customer base is significantly smaller than that of QuickBooks as the suite is better matched for firms and larger enterprises. Its solutions are built for different business types ranging from startups and family businesses to funded enterprises, listed companies, MNCs, and everything in between operating in verticals like advertising, manufacturing, wholesale, hospitality, IT services, and the like.
Features of Intuit QuickBooks and Oracle NetSuite
There is a wide variation in the features available on different versions of QuickBooks. While QuickBooks Online has relatively fewer features, it is among the most affordable accounting solutions. At the other end of the spectrum is the full-featured QuickBooks Enterprise. It has all the accounting features that an enterprise requires along with other auxiliary functions. Below are some capabilities of QuickBooks.
Accounts Payable and Receivable.
Income and expense tracking.
Ledgers, estimates, and invoices.
Budgeting tools.
Order, procurement, and inventory management.
Additionally, users can integrate add-ons and subscribe to other Intuit products like Payroll, Point of Sale, and other applications for enhancing capabilities.
The capabilities of Oracle NetSuite also vary depending upon the software a business subscribes to. Some of the features of the Oracle NetSuite Accounting software are as follows:
Real-time financial data for accounting.
Billing management.
Revenue recognition system.
Financial planning solutions.
Financial reporting and analytics.
Global accounting solutions.
Governance, Risk, and Compliance for enterprises and corporates.
NetSuite vs QuickBooks – What to Choose?
The NetSuite vs QuickBooks comparison is primarily applicable to businesses in the transition from a purely accounting software to an integrated system. Having said that, there is a stark difference in the price of the acquisition of the two software. For businesses that simply need a more powerful system, it might be wiser to upgrade to QuickBooks Enterprise from their existing system. With hosted QuickBooks Enterprise, many capabilities of Oracle NetSuite can be replicated at a significantly lower cost.
As an Intuit authorized hosting service vendor, Apps4Rent provides 24/7 assistance for hosted QuickBooks service via phone, chat, and email. Contact our consultants to know more about our QuickBooks hosting plans.