Enterprises are increasingly migrating their on-premises workloads to hyper-scale public cloud services. These migrations are complex and need to be factored in their digital transformation strategies with detailed plans. Only a holistic approach can help people, processes, and technologies to migrate to Azure and help the organization realize the full benefits of running their workloads on the cloud. In this article, let us dissect the factors to consider before migrating on-premises workloads to Azure.
What Are the Phases of Migrating Workloads to Azure?
The process of migrating workloads from on-premises servers to Azure has to be broken down into three phases. Let us consider the factors to consider before migrating existing workloads to Azure in the appropriate phases.
Factors to Consider in the Pre-Migration Phase
There are two important stages to consider in the pre-migration phase. Below are the factors to examine during this phase.
Building the Strategy
The most important consideration to transfer your workloads to Azure is the strategy. The right strategy depends on three primary factors, which are, migration triggers, business goals, and the priorities of the workloads. If there are time-sensitive triggers, migration is the better option. However, if there are business-critical workloads, modernization might be the better option.
Ensure that stakeholders from cross-functional teams including IT, finance, and operations, are involved in the transition.
Rope in a migration partner, such as Apps4Rent, at an early stage, to minimize migration risks, especially if the workloads are complex.
Planning the Migration
At this stage, identify the applications, databases, and other assets that have to be migrated to Azure. Resources will have to be right sized for transferring workloads.
Once you have identified the on-premises workloads and mapped them to the appropriate Azure resources, estimate the total cost of ownership to confirm that the process is financially viable.
Establish timelines, priorities, milestones, and resources before the migration kicks-off.
Factors to Consider While Migrating Workloads to Azure
At this phase, the organization must be prepared to adopt Azure for its regular operations. This phase also can be sub-divided into two steps.
Preparing the Organization for the Migration

The preparedness of key stakeholders, such as the IT and the application development team, is an important factor in ensuring the success of the migration. Organizations must invest in upskilling employees at this stage so that they can take full advantage of the platform.

Ensuring the Availability of Landing Zones

Azure capabilities such as networking resources, identity and user management, security, and governance elements must be pre-configured before workloads are transferred to Azure. This has to be done to mitigate governance issues during and after the process of migration.

Adopting Azure Cloud Solutions

Choose a workload of an appropriate size and identify the right built-in or third-party automation tools to move them to the right Azure cloud service.
Factors to Consider After Migrating Workloads to Azure
After the workloads have been migrated from the on-premises environment to Azure, users must become competent not only to operate with them but also to handle the backend processes, such as securing and governing the cloud environment. Below are the factors to consider for managing the two responsibilities.
Securing Azure Workloads and Managing Them

Deploy security solutions such as Azure Sentinel and monitor workload performance with Azure Arc and other such services.

Optimize Costs and Govern Azure Cloud Environments Efficiently

Implement custom policies to your Azure subscription if there are compliance standards to be met. Additionally, explore options to reduce costs by availing of Azure Hybrid Benefits, Reserved Instances, and other offers.
Apps4Rent Can Help in Migrating Your Workloads to Azure
Several factors must be considered before migrating workloads to Azure, either from on-premises infrastructure or from another cloud service. Typically, data migration challenges arising from compliance requirements, sub-optimal network configurations, and application and data incompatibilities must be addressed while moving workloads to Azure. As a Tier 1 Microsoft CSP and a Microsoft Partner with Gold competency in Cloud Platform, and Cloud Productivity, Apps4Rent provides managed Azure services covering the entire Azure cloud migration journey starting from formulating the migration strategy to securing and monitoring your assets, and beyond. Contact our Azure experts, available 24/7 via phone, chat, and email for a tailored Azure proposal.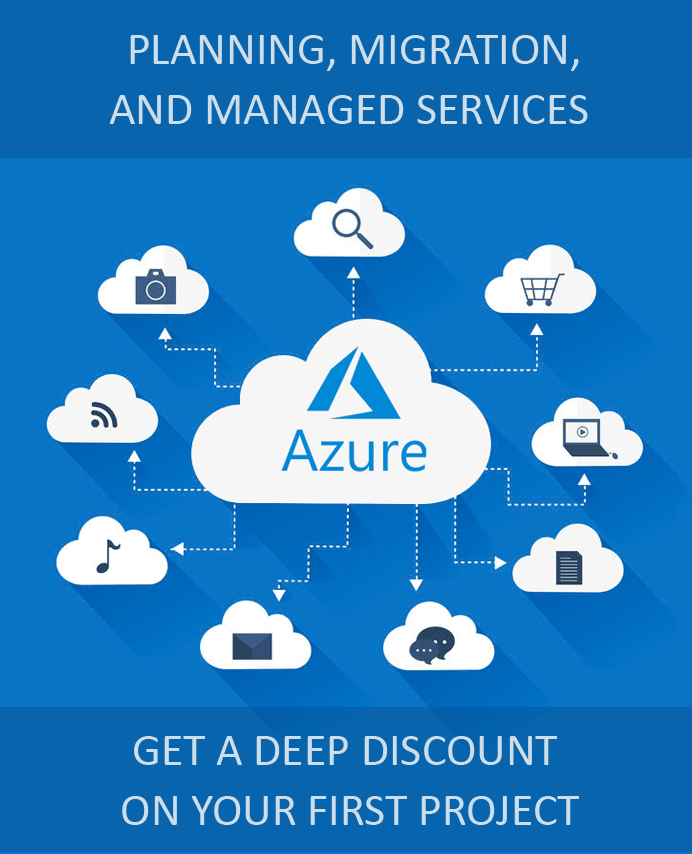 Looking for help with Azure?
Our Azure experts can help you.