Box is a popular cloud storage and collaboration platform that has been available since 2005. It was designed to compete against solutions such as Google Drive and Dropbox. With the inclusion of collaboration features, Box began to compete against SharePoint. However, as a full-service communication and collaboration solution, SharePoint continues to hold a decisive advantage over Box with its ability to offer intranet capabilities such as directory creation, event listing, discussion board hosting, calendar sharing, and even supporting customizable pages and sites. If your business needs access to the comprehensive resources offered on SharePoint, here is a guide on how to perform Box to SharePoint Migration.
What Factors Affect Box to SharePoint Migration?
As with all other migration processes, Box to SharePoint migration has to be done in phases involving planning, assessing, and remediating the content in the source (Box) environment, preparing the SharePoint environment, performing the Box to SharePoint migration, and finally onboarding the end-users. Here are factors to be considered while migrating.
Maintaining Box Folder Integrity

SharePoint is designed primarily for working with shared content. Moving shared content from one platform to another could disrupt folder structures. It is important to exercise caution during the migration process if the folder structure has to be retained in SharePoint.

Optimizing file path length

SharePoint supports up to 400 characters in the file name. This comprises the entire folder path along with the file name. In many scenarios, it is ideal to split large files into more focused components.

Managing permissions

Permissions on external technologies such as Box are not automatically imported into SharePoint. They have to be reassigned after moving content to SharePoint. Not implementing them separately can have a detrimental impact on SharePoint groups and sites. Managing permissions is particularly important for migrating Groups.

Reporting Box contents

When Box accounts have complex sharing permissions on large drives, it is ideal to segregate the contents into smaller components. The Folders and Files report along with the Shared Link report can be useful tools for the process.

Managing File Versioning

Versioning metadata would be lost if files are proper precautions are not taken during migration. This could potentially result in the collapse of the data structure if the versioning is not done correctly.

Maintaining Box Notes Readability

Because not all Box features are compatible with SharePoint, contents like Notes would become unreadable in the latter solution. They have to be downloaded, converted and re-uploaded into SharePoint.
What Are the Different Methods to Perform Box to SharePoint Migration?
Many tools and methods are available to migrate content from Box to SharePoint. The quantity of the content and the time available for the process among other factors should be the primary factors for consideration for Box to SharePoint migration.
Manual Transfer

Although the manual transfer of files from Box to SharePoint account is the most unsophisticated method, it is also the least used technique as it is error-prone and cumbersome.

OneDrive Sync

OneDrive Sync is a slightly more automated process. Contents will have to be imported from Box to PCs or Macs. SharePoint sites and shared folders will have to be mapped to the respective drives and document library contents will be imported subsequently. This process too requires significant legwork before initiating the migration and is fairly error-prone.

PowerShell Scripts

PowerShell scripts provide greater flexibility in migrating content from Box to SharePoint. Using PowerShell for SharePoint requires SharePoint Admin rights and modules that can automate the migration process.

Power Automate Template

Microsoft has developed a Power Automate template that can ensure that new files added to a folder in Box are automatically copied to a corresponding folder in SharePoint.

Mover

Microsoft acquired a tool called Mover in 2019 for migrating data into OneDrive and SharePoint from similar solutions including Box. The tool can be used to transfer owned folders and Box and root files.

Third-Party Tools

In most cases, third-party tools are the preferred solutions for migrating from Box to SharePoint. Not only can the migrate all types of files, they even preserve the permissions, structural hierarchy, metadata, and other settings while automating the process to improve the efficacy and reduce errors.
Apps4Rent Can Help With Box to SharePoint Migration
When you are migrating from Box to SharePoint, not only are you moving content but also users and their workspaces. You can claim to be successful in migrating from Box once users have adopted SharePoint as their new collaboration platform. As a certified MSP, Apps4Rent has over 15 years of assisting businesses in adopting SharePoint solutions. Having performed over 5000 SharePoint migrations including on-premises implementations as well as cloud solutions, we have developed deep expertise in migrating from platforms such as Google Drive, Enterprise Vault, Box, and Dropbox. We provide free 24/7 phone, chat, and email support for SharePoint hosting and migration services. Contact us today for Microsoft solutions.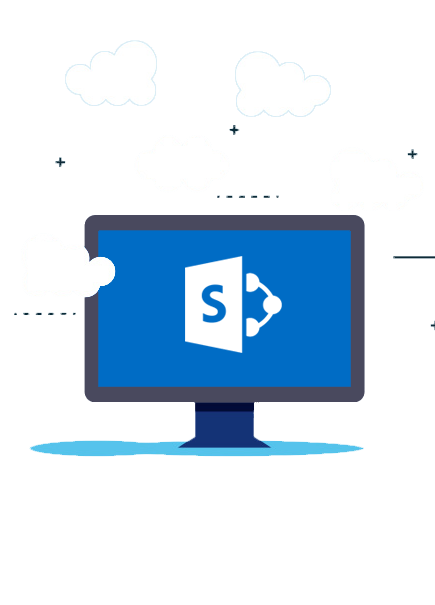 Need help with SharePoint migration? Contact us now.