A vast majority of enterprises use Microsoft products such as Office 365/ Microsoft 365, Exchange Server, Windows Server, or SharePoint for their daily operations. While almost all of these products are already available as cloud-native solutions, many businesses continue to use them with perpetual licenses and look for methods to host them on the cloud for scalability, security, and availability. While it is ideal to host these platforms on Azure, can businesses that are set up on Amazon Web Services (AWS) host them with their current subscriptions?
The good news is that AWS has cross-platform compatibility to host enterprise workloads such as Windows Server and SQL Server by Microsoft. In this article, we will explore the nuances of hosting SharePoint Server on AWS.
What Are the Advantages of Hosting SharePoint Server on AWS?
Hosting SharePoint Server workloads on AWS can provide businesses more flexibility and free up capital to focus on their strategic IT goals. Here are some of the advantages of hosting SharePoint Server on AWS.
Use existing AWS subscriptions to scale resources for SharePoint Server on-demand based on business requirements.
Eliminate hardware acquisition and maintenance costs of on-premises infrastructure needed for SharePoint Server hosting.
Switch to the pay-as-you-go model to replace large upfront costs with predictable expenses that scale with your business.
Maintain customizations, workflows, and extensions for the SharePoint Server, that can integrate with other workloads on AWS.
Provide multiple persistent site-to-site connections for SharePoint farms deployed on AWS.
How to Use SharePoint on AWS?
The process of migrating and provisioning SharePoint Server on AWS can be automated and simplified to a large extent with the use of AWS CloudFormation. Here are the steps to deploy SharePoint Server on AWS.
Select the Availability Regions for your EC2 instance on which SharePoint will be deployed.
Deploy Active Directory Domain Services and SQL Server Quick Starts on AWS.
Configure the availability group with an appropriate listener for the SQL Server instances that are created by AWS Quick Starts.
Choose a deployment option by specifying the parameters for the AWS CloudFormation template.
Launch the SharePoint Server stack, create an RDP connection, and set up a modern team site to validate the deployment.
Make the SharePoint servers highly available so that SharePoint service accounts retain access in the event of a failover.
Validate the automatic failover process once you have confirmed that the externally facing SharePoint site is highly available before rolling out the AWS hosted SharePoint Server to your users.
AWS vs Azure SharePoint Server Hosting, Which Is Better?
While Amazon EC2 Dedicated Hosts instances allow you to host SharePoint Server on dedicated infrastructure even without Software Assurance, enterprises can purchase fully compliant Microsoft software licenses that are bundled with the subscription for their instances. However, this can prove to be significantly more expensive than the Bring Your Own License (BYOL) option available with Microsoft License Mobility through the Software Assurance program.
This is where Azure SharePoint hosting can be a better option. Microsoft estimates that AWS can be up to five times more expensive than Azure for hosting Windows Server and SQL Server, which are required for operating SharePoint. Thanks to Azure Hybrid Benefit, the Azure subscription rate is significantly lower. Moreover, Microsoft provides free extended security updates for three years while moving Windows Server or SQL Server 2008 and 2008 R2 workloads to Azure.
Apps4Rent Can Help Migrate SharePoint Server to Cloud
While hosting SharePoint Server on the cloud can be an attractive option for businesses that are looking to scale their operations at affordable costs without compromising on the features of the SharePoint Server platform with perpetual licenses, the choice of hosting service can impact both prices and supported features.
As a Tier 1 Microsoft CSP with Gold competence in Cloud Platform and Cloud Productivity, Apps4Rent can help you with the SharePoint solution based on your requirements. Not only can we provide SharePoint with managed Azure services, but we can also host it on our top tier SSAE 16 certified data centers apart from offering consulting services for deploying SharePoint on-premises or public clouds such as AWS. Contact our SharePoint consultants, available 24/7 via phone, chat, and email for assistance.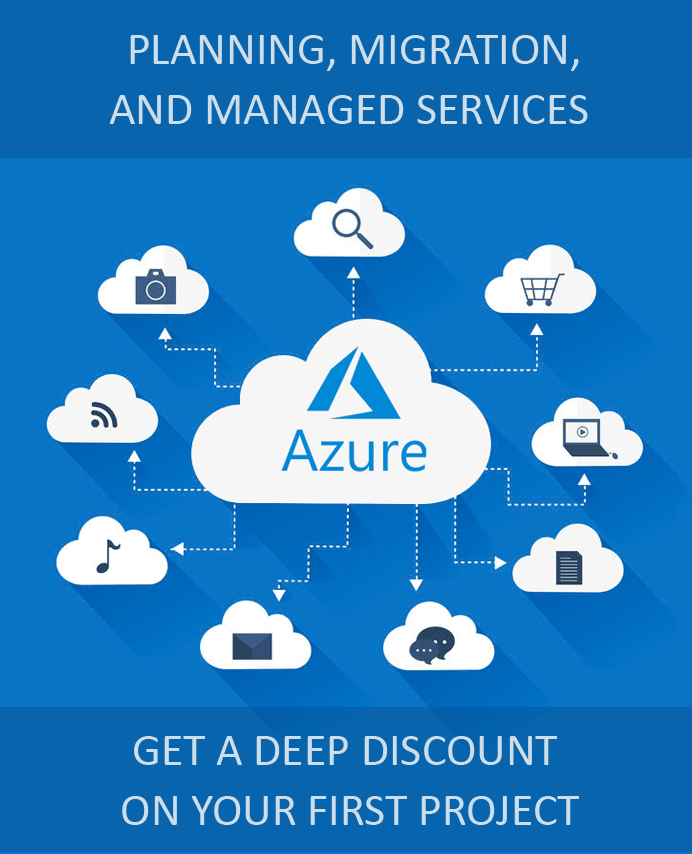 Looking for help with Azure?
Our Azure experts can help you.