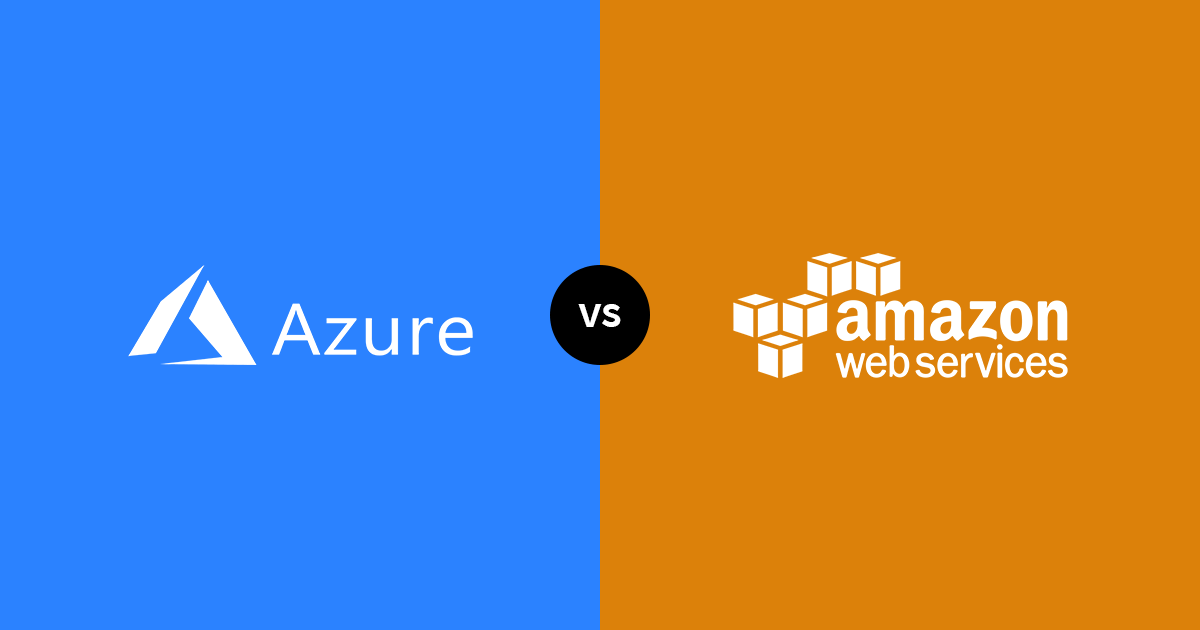 There is no easy way to compare the world's two biggest cloud services offered by the world's two biggest companies. AWS from Amazon, and Azure from Microsoft have been at loggerheads for quite some time now. But is there an easy answer in this battle of supremacy? Amazon Web Services vs Microsoft Azure – what will you choose in the beginning of the third decade of the second millennium?
AWS was launched in the early 2000s after Amazon's software team realized that they possess the required skills for operating and executing effective, scalable data centers. After the team undertook the operations, Amazon Web Services (AWS) was born.
Today, AWS is the world's largest cloud provider that offers the as-required infrastructure needed by companies with custom requirements. A few of the AWS customers include Spotify, Hulu, Expedia, Netflix, Ubisoft, Unilever, Airbnb, GoDaddy, Formula 1, Major League Baseball, Ryanair, Zulily amongst others. However, the major drawback of using AWS is its reluctance with Windows services.
It may be assumed that Amazon has the edge in the battle between Azure vs AWS as it is the largest offering right now. This only appears on the surface though. If you go deeper into the intricacies of both Azure vs AWS, it would be a difficult choice to make. When Amazon launched AWS in 2002, it was the only player in the market. Microsoft didn't pay much interest in the early years in the cloud, but after AWS's success, it was forced to enter the arena. The nearest competitor to AWS was Google, which launched its services only in 2009 – a good seven years after AWS.
As a result, Amazon has gained a considerable first-mover advantage. This advantage is massive even though Microsoft has been pushing its Azure services aggressively. For the time being, AWS has been able to maintain its pole position. With Azure growing more than twice as fast, this is going to change soon. Few of the Azure customers include Siemens, AccuWeather, HDFC Bank, Yes Bank, Bentley Systems, Parexel, KPMG, Nedbank amongst others.
Microsoft overhauled its cloud offering and packaged it as Azure, adding support for a variety of Azure services, operating systems and programming languages. The systems were made flexible, allowed cross-platform operations which allows Linux OS to integrate with Azure, and scalability was massive. Due to the continued efforts of Microsoft, Azure has found its way back as a leading cloud provider in the world.
Microsoft Azure vs Amazon Web Services: How Are They Changing the World?
Not only is cloud going to shape the future of businesses, but it will also bring massive changes to the welfare of society. AWS is being used by NASA as its repository for storing audiovisual files captured from the galaxies far away in one place. Also, AWS in the past has been used to scale systems that predict weather and warn people of emergency warnings. The technology has saved many lives, which is proven to be a cost-effective method to be replicated in other such risk regions.
Azure also had its fair share of plus points. Azure IoT Suite was used for Weka Smart Fridge, which helps in keeping vaccinations stored effectively for longer times. The vaccinations remain proper when they are reaching people who otherwise stay averse to such kind of vaccination facilities.
Azure is being used by Nalco Water, an Ecolab sub-unit dealing with the water crisis, which combines cloud and analytics to find solutions to the freshwater crisis by reuse and recycling.
Azure and AWS: Growth Projections
In the race for supremacy, Azure and AWS are the frontrunners of the cloud environment business. They try to grab the larger piece of market share with their innovative ways and technologies. AWS has market share of more than 30%, while Azure has nearly 16% market share. Google Cloud with 8% of market share is another big name in the race.
Though it looks like AWS is leading here too, Azure has a much larger revenue base than AWS. The revenue figures for Azure include Office 365 subscriptions too. In 2019 alone, Azure has grown over a rate of 75%. This is double the growth rate of AWS.
If we had to pick a winner here, we would choose Azure.
Azure and AWS – Key Structural Differences
While Azure and AWS are both cloud services, they work differently. While AWS uses Elastic Compute Cloud (EC2) for computing and software management, Azure uses virtual machines for the same tasks. There are differences in the way they store data too. AWS uses Simple storage (S3) for infrequent access (IA) along with archive storage by Glacier data. Azure, on the other hand, uses Storage Blob, which is primarily made of blocks. The corresponding offerings for infrequent access and archive solutions are Azure Cool Storage and Azure Archive Storage respectively. There are significant differences in their networking capabilities as well. While AWS uses a virtual private cloud for networking along with dedicated API gateways for cross-premises connectivity, Azure uses a VPN gateway. The load balancing on AWS networking is achieved through Elastic load balancing while Azure uses a load balancer and application gateway. The most distinguishing feature between the two services is the ability to deploy apps. While AWS offers good solutions like Elastic Beanstalk, Batch, Lambda, and container service, it doesn't offer too many features on the app hosting side. This is where Azure has a distinct advantage.
It has several app deployments tools like cloud services, container services, app services, functions, and batches. Both Azure and AWS have SQL and NoSQL database solutions. AWS uses a relational database for SQL, Dynamo DB for NoSQL and Elastic Cache for caching. Azure supports SQL database, MySQL and PostgreSQL for SQL along with Cosmos DB for NoSQL and Redis Cache for caching. Apart from these factors, the capabilities that Azure and AWS offer open source developers are different. While AWS offers extensive support for Linux with different integrations for open source applications, Azure runs the .net framework on Windows, Linux, and macOS.
AWS vs Azure – Future Prospects
Cloud computing is a rapidly growing field with AWS and Azure leading the market. Speaking on the broader perspective, cloud computing allows companies to get new products on the market faster, increase efficiency, decrease working expenses, improve interdepartmental teamwork, cut capital costs, and increase innovation.
The future is in the cloud. Azure is expected to become the biggest cloud player with AWS coming a close second. Put your hands onto the cloud, either Azure or AWS, your future seems bright. We bet on Azure because it is rapidly gaining the market share, and soon it would overtake AWS as the leading cloud provider.
If you want to make a move to the cloud, you need to have trained professionals who will help you with the complete migration, installation, deployment, and operations process.
Organizations must have certified cloud experts to make an easy transition to the cloud. There are tiny nuances of cloud computing that can be understood and addressed by the cloud professional. Apps4Rent is a leading Azure services provider that can help you with Azure implementation.
Azure or AWS – Summary
Not long back, nobody would have thought that Azure would give AWS a stiff competition. In 2020, Azure is expanding rapidly and the cynics are being proven wrong. Azure services will be the largest contributor to Microsoft's growth story.
The cloud wars can be interesting as well exhilarating – be it AWS, Azure or even Google. Whether AWS or Azure takes the lead, one outcome is certain. The cloud technology is here to stay.
If you want a detailed understanding of how Azure can help your business, contact our Azure experts now. We have over 200+ Azure Marketplace applications that can be run and implemented on Microsoft Azure.