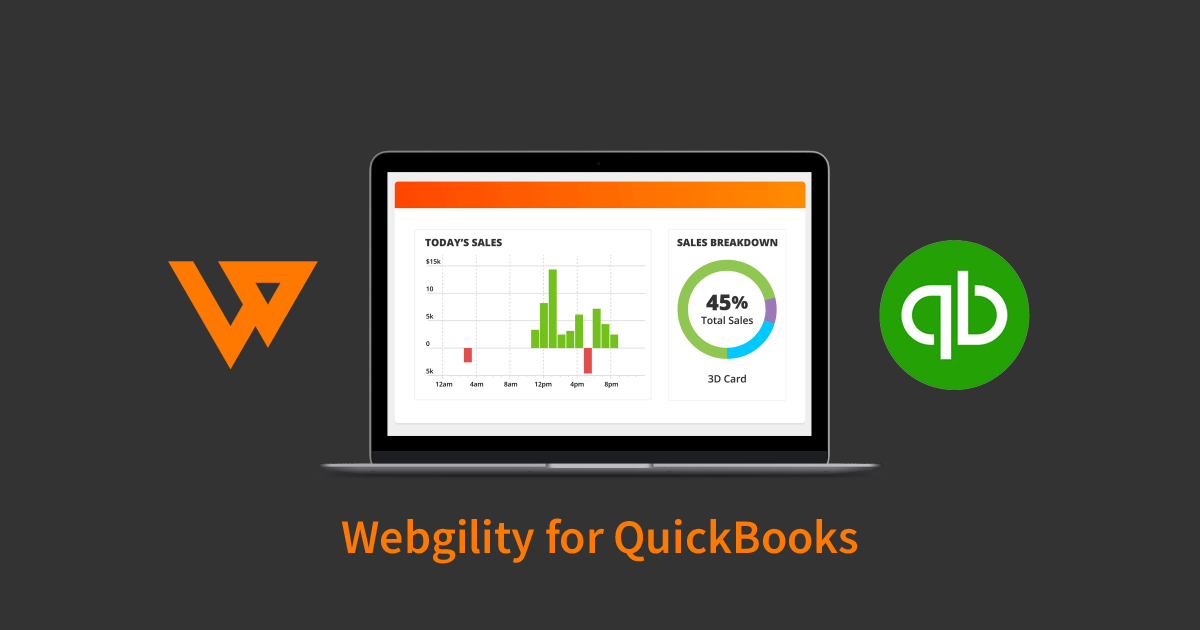 Inventory management is the single most important activity for an eCommerce business. It can virtually make or break the company's operation. It is imperative to put in place robust systems that facilitate inventory management and allow operational scaling. Fortunately, accounting software like QuickBooks Desktop enables businesses to do just that. It has sophisticated inventory management tools that are built into the application that is ably complemented by third-party applications like Webgility. These tools automate several processes making QuickBooks an even more potent software. In this blog, we will explore how to integrate Webgility with QuickBooks Desktop and its benefits.
QuickBooks Desktop for eCommerce
While QuickBooks is potent accounting software, it can also play an important role in inventory management especially when it is complex. All QuickBooks Desktop versions support inventory tracking with QuickBooks Desktop Enterprise providing Advanced Inventory that enables the use of FIFO costing, multiple location inventory, and advanced scanning and tracking features. Some businesses choose to use standalone applications for both operations. However, it makes these processes inefficient and cumbersome. It is for this reason why QuickBooks Desktop is a better application. With several accounting capabilities that are tailor-made for the eCommerce industry like managing sales orders, QuickBooks Desktop is the perfect solution when there are multiple warehouses with bundled products or assemblies involved in the supply chain and the business needs barcode tracking. As the software that specializes in accounting, it offers deep insights into how costs and inventories correlate with business health. It is not without reason that QuickBooks has captured a large market share in the accounting market, and is also the preferred option for eCommerce sellers because it allows them to manage the complete fulfillment process right from the point of receiving a placement order to shipping out the assembled product.
Why Use Webgility for QuickBooks?
Webgility is an eCommerce software that works with several sales channels and automates, synchronizes, and tracks bookkeeping and accounting information when it is integrated into the QuickBooks accounting system. It provides a unified dashboard for tracking the entry of orders, sales, and returns. This gives easy accessibility calculations of service fees, payment process fees, shipping costs, and other financial details from both the revenue and expenses side of the operation. All this happens without manual entry making the accounting automation software integration a valuable time saver for businesses. Additionally, the software provides detailed analytics reports for businesses to make data-driven decisions. Acting as a single source of data entry into QuickBooks Desktop, Webgility is a trustworthy method for providing timely, error-free, and accurate data for financial transactions.
How to Integrate Webgility with QuickBooks Desktop?
Webgility uses the Webgility Desktop Extension to connect with QuickBooks Desktop. The extension is necessary for establishing the connection and initiating data transfer between the QuickBooks company file and Webgility. Follow the steps below to create the Webgility QuickBooks connection using the Unify Desktop Extension.
Download the extension from the Webgility Store Module and install it in the same location as the QuickBooks file.
Proceed with the steps appearing on the Setup- Unify Extension.
Click on 'Login to Unify' on the Plan & Usage menu in the Webgility portal.
Select 'Connect to QuickBooks Desktop'.
Enter the details in the Unify Desktop Extension Configuration window and select 'Connect to QuickBooks'.
Select 'Yes, always; allow access even if QuickBooks is not running.' in the application certificate.
Review the settings on the window that appears and save the changes.
Webgility for QuickBooks – A Winning Combo
Webgility for QuickBooks is one of the most powerful integrations for enhancing the productivity of accounting and bookkeeping software. It ensures that accounting data is automatically posted to QuickBooks Desktop thereby reducing manual data entry and maintaining accuracy and integrity. Webgility can be integrated with QuickBooks hosted by Apps4Rent, an Intuit authorized QuickBooks hosting partner for syncing eCommerce orders automatically.
Apps4Rent's QuickBooks experts provide 24/7 technical assistance via phone, chat, and email. Contact us to know more about our QuickBooks hosting offers.