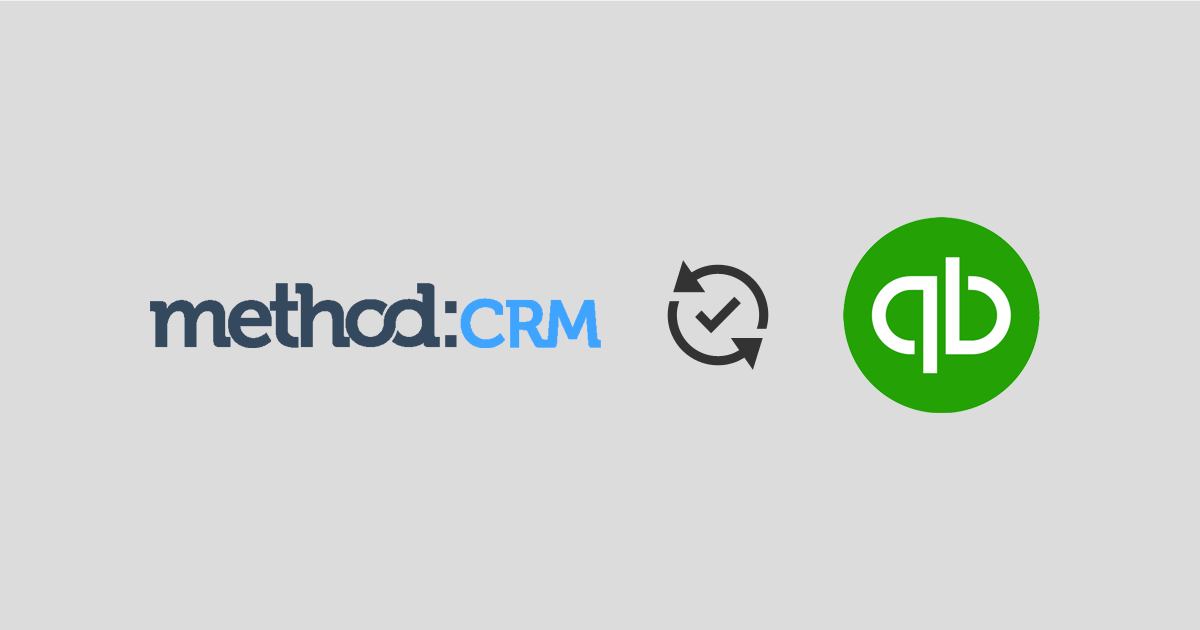 Accounting is one of the most ubiquitous operations that should be performed by every business regardless of their area of operation. Consequently, accounting software is one of the first tools that owners acquire. As businesses grow, they procure several tools to manage diverse operations increasing the cost and complexity of operations. Interoperability between tools becomes important for efficient functioning. It is vital to find compatible integrations for an application like QuickBooks Desktop that is installed systems. Method:CRM is one of the few applications that allows two-way sync with all QuickBooks Desktop versions: QuickBooks Pro, Premier, Enterprise.
This blog explains how to integrate Method:CRM with QuickBooks Desktop.
How Integrating Method:CRM with QuickBooks Desktop Helps Businesses?
Integrating Method:CRM with QuickBooks creates a unified ecosystem for accounting practices. Below are some ways Method:CRM enhances the capabilities of QuickBooks Desktop.
Includes email integrations that provide customer information from
QuickBooks for efficient communication.
Provides Method specific QuickBooks Desktop and Google Calendar two-way integration for enhanced collaboration.
Facilitates data-driven email marketing campaigns.
Simplifies payment transfer with a built-in customer portal.
Allows API access for applications to customize the software.
Integrating Method:CRM with QuickBooks Desktop extends the capabilities of the desktop application beyond accounting with communication and collaboration capabilities.
How Does Method:CRM Work with QuickBooks?
Method:CRM provides powerful tools to manage leads, sales, service customers, and handle payments with reduced steps. It automates processes and prevents cluttering of accounting data with the prospect information. It ensures that there is no double entry by automatically syncing information on Contacts, Sales Transactions, Vendor Transactions, Payments, Lists, and Time Tracking in the various QuickBooks Desktop versions including Pro, Premier, and Enterprise. Importantly, it is possible to create estimates, sales orders, invoices and make other such entries without logging into QuickBooks. Integrating Method with QuickBooks Desktop improves business productivity by providing the flexibility to create customizable workflows and templates into which data from QuickBooks can be imported.
How to Use Method:CRM with QuickBooks Desktop?
It is easy to sync the Method account with a QuickBooks company file with the process taking not more than 30 minutes in most cases. Follow the steps below to enable the two-way data synchronization between the QuickBooks and Methods accounts.
Setup QuickBooks Desktop and Method
Open the Company File on QuickBooks Desktop with admin access.
Sign up for Method and provide the Method CRM login if you haven't already done so.
Download plugin
Download the Method sync engine and launch the .exe installer file.
Proceed with the steps appearing on-screen to finish the installation.
Confirm your authentication to complete the setup.
Connect Method:CRM with QuickBooks Desktop
The last step of the setup process is to enable syncing of data from QuickBooks with Method:CRM
Select 'Yes, whenever this QuickBooks company file is open' on the Application Certificate pop up and click on Continue and Done on the windows that follow.
Method:CRM with QuickBooks – Augment Your Operational Capacity
QuickBooks Desktop versions are powerful accounting tools in themselves. But they are seldom sufficient to run a business successfully as standalone applications. Most businesses will have to use tools and integrations to augment their operational capabilities. The affordable Method CRM pricing and its powerful capabilities to seamlessly communicate with QuickBooks Desktop make it an ideal tool for most small businesses. It provides one more reason for users to stick with their QuickBooks Desktop. Using hosted QuickBooks further narrows down the advantage of the web version as all the functionalities of QuickBooks with Method:CRM integrations can be accessed from anywhere with any internet-enabled device.
As an Intuit Authorized QuickBooks hosting partner, Apps4Rent helps businesses make the best use of QuickBooks Desktop. Our round-the-clock assistance via phone, chat, and email with guaranteed uptime ensures that your business is always up and running. Contact our sales team to know more about Apps4Rent offers.