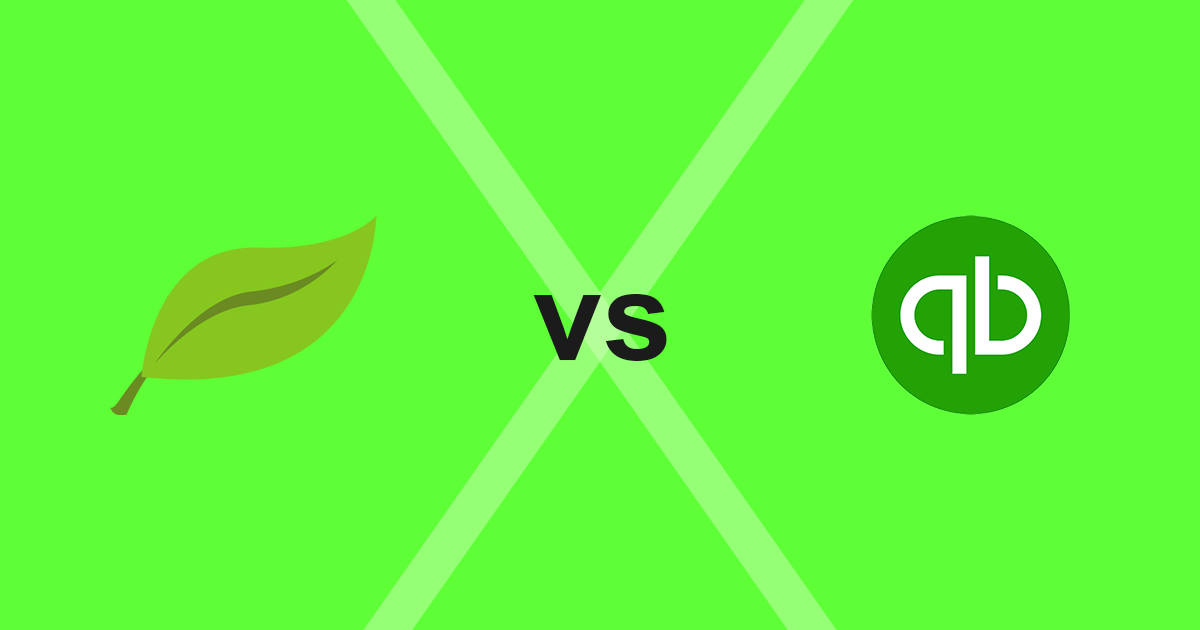 People often confuse QuickBooks and FreshBooks not least because of the similarity between their names but also their functions. Both are widely used accounting software that have a range of features for managing financial tasks. These applications have been around for nearly three decades and have evolved to serve their wide consumer bases more effectively over time. While both applications offer features not available in the other, they certainly are not mutually exclusive with several overlapping features. Nonetheless, while FreshBooks is primarily geared towards small businesses and freelancers, QuickBooks can be used by businesses of all sizes. Here's a quick comparison of QuickBooks vs FreshBooks.
QuickBooks vs FreshBooks Overview
While FreshBooks is an entirely web-based solution, QuickBooks has both web-based and desktop-based plans. The desktop-based application can be operated on the cloud platform for better operational flexibility. Both have several plan options that are available on a subscription basis. They can be accessed from a range of devices including desktops, laptops, smartphones, and iOS devices. They also support various integrations including the ones developed by third parties to extend their functionality. However, the superficial commonalities belie the wide differences between the two applications underneath. We will compare and list out the differences in the features in the sections that follow.
QuickBooks or FreshBooks – Accounting Features
FreshBooks provides a rather basic interface for maintaining accounts. Users will have to manually fill out data in balance sheets. Depending on the number of projects or accounts that have to be managed, this could be a laborious and time-consuming process.
QuickBooks, on the other hand, automates many of the accounting processes. It includes features like double-entry accounting to organize cash flow and maintain the balance sheets. Users can customize workflows for their businesses. It can automatically import and sort transactions into different categories. All these features add up and help businesses manage and reconcile their accounts with greater ease especially if there are multiple accounts to manage.
QuickBooks and FreshBooks – Data Tracking
QuickBooks is particularly a better option for brick-and-mortar businesses, manufacturing, and retail concerns. For starters, it has better support for inventory tracking with the ability to keep records of payments to different stakeholders, inventory on hand, and order management. Similarly, QuickBooks provides advanced methods to track both credits and debits which simplifies profit tracking.
FreshBooks, on the other hand, is better suited for the project and case-based businesses that need accurate time-tracking and invoicing capabilities. While these are also available in QuickBooks though, users will have to opt for plugins and add-ons like Payroll or TSheets for time tracking and other features if they are using a basic version of QuickBooks. The invoices generated with FreshBooks can automatically leverage the data from the inbuilt timekeeping feature to charge for billable hours.
QuickBooks vs FreshBooks: Which is The Better Option for Accounting?
Now that we have seen the differences between QuickBooks and FreshBooks, it is time to decide which of the two is better for your business. The answer boils down to the type of small business you own or operate and its accounting needs.
FreshBooks is simple with fewer features that are better suited to the needs of the self-employed and small businesses that charge on an hourly basis. The inbuilt time-tracking capability that is linked to invoices is its greatest strength. The simplicity of the application also results in a lower per-user cost (depending on the number of users) with comparable QuickBooks plans.
QuickBooks, on the other hand, is a more versatile product. It can be used by businesses of all sizes, with features that cater beyond simple accounting needs. QuickBooks is available in several different online and desktop-based versions providing greater flexibility to businesses for choosing their plan. Even the basic plans automate several financial tasks and processes making QuickBooks the more efficient of the two software. The more advanced plans have features and capabilities that are ahead of FreshBooks by leaps and bounds.
QuickBooks or FreshBooks – The Winner
There is no right or wrong choice in the QuickBooks vs FreshBooks comparison. While there is no corresponding FreshBooks version for the QuickBooks Desktop variants, the only users who might have to rake their brains to arrive at a logical choice are the ones who have the most basic accounting needs especially given the fact that the pricing models are different for the applications. Users with more sophisticated requirements are more likely to gravitate towards QuickBooks Desktop, especially with hosting services for QuickBooks software.
As an Intuit Authorized QuickBooks hosting provider, Apps4Rent supports all QuickBooks Desktop versions on its servers with guaranteed uptime and 24/7 support via phone, chat, and email. Contact our support team to know more about our QuickBooks hosting and QuickBooks Online plans.