Shifting an existing e-commerce system to the cloud provides various benefits to the enterprises, including greater scalability and control. It gets easier for businesses in the retail industry to integrate with other cloud-based services, remain accessible 24/7 to the customers, and easily scale up and down in accordance with the shopping seasons, customer behaviors, and buying patterns. This article explains the major benefits of migrating e-commerce systems to Azure and the steps involved in doing so.
What Are the Benefits of Moving Your E-Commerce System to Azure?
Azure e-commerce solutions can improve various business processes and help you increase your bottom line. Here are the major advantages of moving your e-commerce system to Azure.
Ability to Drive More Sales
Azure e-commerce solutions enable you to analyze site traffic and conversation rates to design new products and special offers based on customer behavior. It helps you create a personalized shopping experience and enhance satisfaction across the customer base through ongoing engagement. Improved flexibility and scalability, that comes with Azure, also help you tailor your e-commerce platforms as per the customer requirements and convenience.
Improved Performance
Your e-commerce system on Azure can help you streamline various business processes more efficiently. You can build an easy-to-navigate e-commerce purchasing experience that handles a large number of transactions seamlessly and deploy it on a highly secured and compliant e-commerce platform. The Azure-hosted web stores can leverage various connected services and cloud computing technologies for extended capabilities.
Auto-Scalability
Your Azure e-commerce solution can adapt to the size and seasonality of your business, enabling you to meet customer demands. As Azure App service auto-scales, you can deploy as many resources as you need to cater to the varying requirements of your business. With Azure-based services, you can now implement modern business models with advanced capabilities to ensure round-the-clock availability and increase ROI in the long run.
Supply Chain Optimization
With Azure e-commerce, you can save money by optimizing your supply chain. The service provides your suppliers and sellers with online self-service portals to ensure increased satisfaction while reducing the support costs, enabling you to use order information and historical customer data to manage inventory better and reduce shipping. In other words, Azure e-commerce provides you multiple ways to increase your bottom line.
Reduction in IT Overhead and Associated Costs
By migrating your e-commerce solution to Azure, you can significantly reduce the time and efforts required to manage IT infrastructure. With Azure services, you can create an e-commerce solution designed around driving sales and leave infrastructure management to your cloud service provider. As a result, you free your workforce to focus on core business processes. As your data is entirely stored in the cloud instead of your on-premises infrastructure, you experience a significant cost reduction across data storage and maintenance.
What Are the Components Involved in Architecting an E-Commerce Solution?
To architect an e-commerce solution in Azure, you will need the following components.
Web Apps: Use Azure Web Apps, a platform as a service (PaaS) solution to build your customer-facing e-commerce application using a framework of your choice.
Azure SQL Database: Azure SQL Database is a managed database service that takes care of scalability, backup, and high availability of the database required for your e-commerce business.
Azure Functions: Use Azure Functions to add capabilities to implement code triggered by events for automating tasks, such as order processing in your e-commerce application.
Application Insights: Get live diagnostics and usage feedback for your e-commerce system with Azure Application Insights.
How to Shift Your E-Commerce Workload to Azure?
Your e-commerce store will have to be migrated to Azure by moving its components to the cloud in a sequenced order. As the migration involves moving workloads, you temporarily use Azure as an extension of your on-premises data center with applications maintaining the communication.
There are different stages involved in the migration such as building out the network, incorporating an identity system – Azure Active Directory, and provisioning storage pieces in Azure. However, risk-free migration requires a strategic roadmap and clarity about the components to move first in the cloud.
The nature of your existing applications and your organization's unique needs can only define the right path to safely and efficiently migrate your e-commerce system to Azure. Without appropriate skills and expertise in the deployment of Azure services, the attempt can result in unnecessary downtimes and compromised security, affecting your customers' shopping experience and your brand's reputation. It is among the best practices to consult an Azure service provider before starting to shift your workload to Azure.
Make a Shift to Microsoft Azure with Apps4Rent
Azure cloud services empower you to embrace the advanced technology features to deliver greater customer satisfaction and achieve your e-commerce goals such as scalability, flexibility, and performance. With a robust team of Microsoft certified engineers, Apps4Rent helps enterprises with managed Azure services. If you are looking for a solution that you can use out-of-the-box, Azure Marketplace has it for you. We can customize Azure Marketplace images with our Azure managed services to ensure they fit your requirements. We are a Tier-1 Microsoft CSP, available 24/7 via phone, chat, and email for Azure services deployment assistance.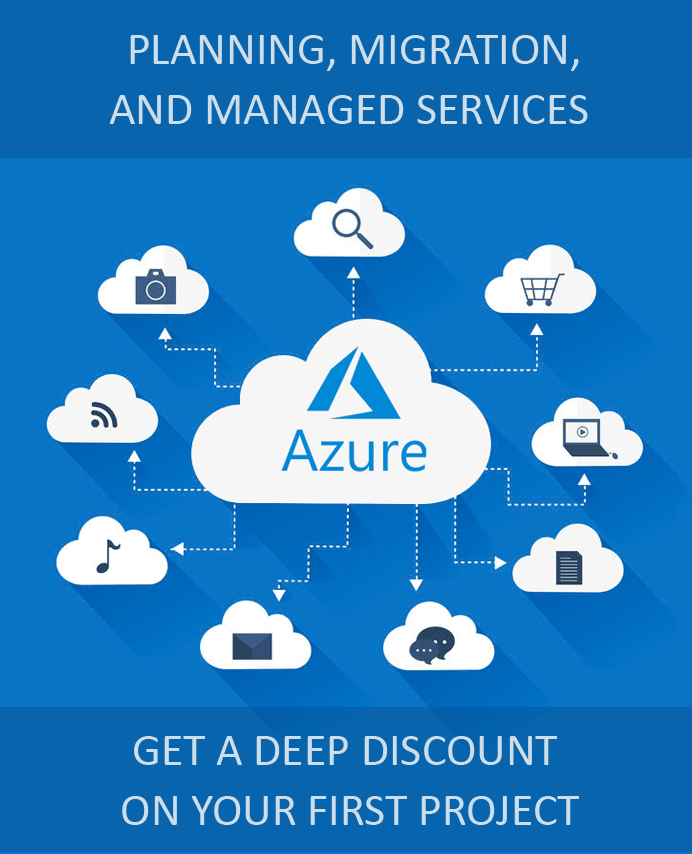 Looking for help with Azure?
Our Azure experts can help you.