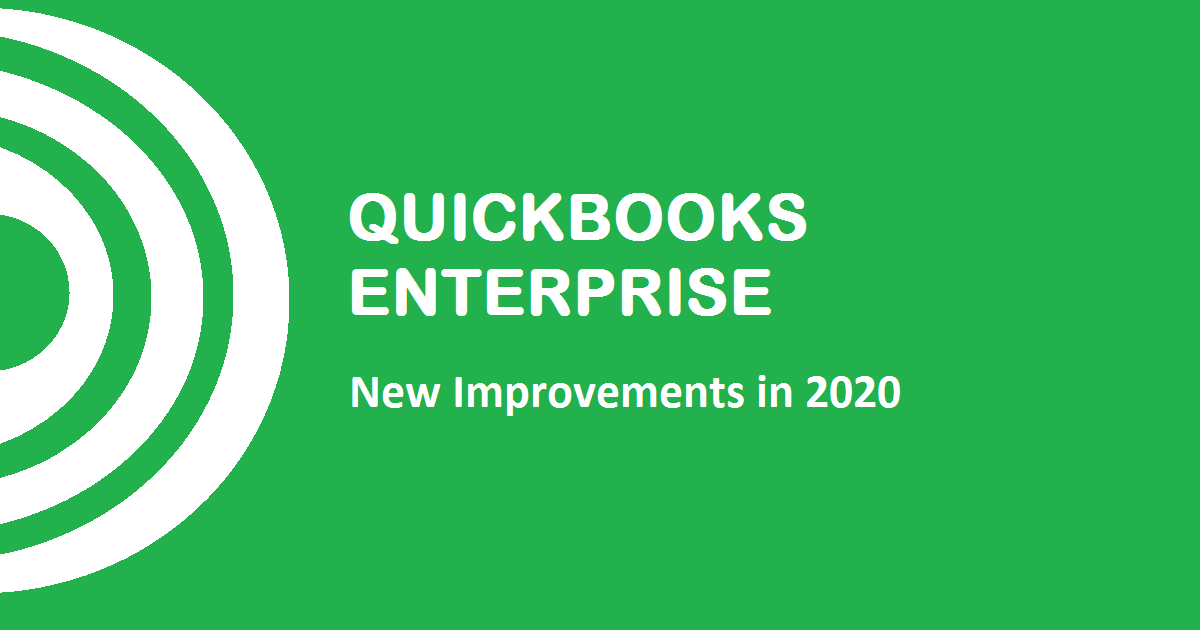 As Intuit continues to improve and add features to QuickBooks, its flagship edition QuickBooks Enterprise in 2020 gets a host of new additions in the recent 20.0 edition. QuickBooks Enterprise has added a plethora of new features which improve customer experience and improve efficiency with a greater focus on mobile compatibility. QuickBooks Enterprise 20.0 includes improvements such as scheduled customer payment reminders, improved Smart Help functionality, better company file search, and more.
Here are 5 major improvements in QuickBooks Enterprise 20.0 that makes it a powerful accounting software:
Major Improvements in QuickBooks Enterprise 20.0
1. Smart Email Options
QuickBooks Enterprise 20.0 improves communication using emails efficient and impactful. It introduces the ability to create email templates for sending out reminders to customers reminding them of their open accounts' payable balances, track the reminder emails, and create specific mailing lists for late-paying customers. It is also possible to add the purchase order number of the customer in the email subject line automatically. Additionally, PDF attachments can be previewed in the email so that users don't have to manually review the file. From an end-user standpoint, the new addition of the ability to consolidate multiple emails for the same client, job, vendors or employees improves payment processing. This ensures that users will not have to search and download individual invoices.
2. Improved Reports User Interface
The ability to collapse columns in jobs and class reports has been extended to QuickBooks Enterprise 20.0 users. This means users can hide or unhide several columns simultaneously while generating QuickBooks reports that have too many columns to fit into the same screen. This saves the trouble of having to export these reports to Excel for minor customizations that can now be handled on-screen. This feature is accessible with the Collapse Column button on the top-right corner or using the +/- symbol appearing next to each column.
3. Landed Cost Calculation
Businesses in the manufacturing and distribution verticals must account for expenses other than the materials costs. This could include packaging, transportation, insurance and other miscellaneous expenditure that are often left out during the accounting process. It is now possible to compute these charges in terms of quantity, volume, weight or value. This feature is available with the Platinum Subscription with Advanced Inventory and can be accessed from File > Edit > Preferences > Items & Inventory > Company Preferences > Advanced Inventory Settings > Landed Cost.
4. Better Vendor Management
Platinum subscribers of QuickBooks Enterprise 20.0 can access Alternate Vendors from the Items option Vendor Center in the menu bar. This view provides a centralized location for details about vendor contact details and pricing data helping organizations to make better purchase decisions with the help of consolidated data. This, in turn, simplifies making purchase orders with readymade availability of vendor information.
5. Consolidated Picker/ Packer Roles
In the earlier QuickBooks Enterprise editions, the tasks of feature Pick Pack and Ship sales order fulfillment had to be performed individually. Now the Pick and Pack tasks have been merged into a single task by implementing greater flexibility into the Sales Order Worksheet. This option can be enabled from Site Options in the Advanced Inventory Settings.
Hosted QuickBooks Enterprise Advantages
Apart from these 6 new improvements in QuickBooks Enterprise, there are other additions such as the compatibility with Office 2019 that make QuickBooks Enterprise 20.0 one of the most sophisticated accounting software available in the market.
These advancements can go a long way when they are clubbed with the mobility of hosted QuickBooks Enterprise solution wherein the software is made available to users on a platform of their choice as a service by a third-party provider hosting it on their server. As an Intuit Authorized Standard Host for QuickBooks, Apps4Rent is a trusted vendor with dedicated professions providing 24/7 assistance via phone, chat, and email.
If you are looking for reliable QuickBooks Enterprise licenses and hosting services at competitive pricing, feel free to initiate the chat option in the bottom right of the screen.