A PBX is commonly used in organizations and provides several benefits for calls. However, by employing ML and AI characteristics offered by public clouds, a good call analysis, which can be challenging at times, can be made simpler. You may easily combine an AWS Post Call Analysis service with your on-premises PBX.
Every interaction with a caller offers the chance to discover more about their requirements and the extent to which those needs were met throughout the call. These conversations can provide you with information that will help you manage script compliance and identify new ways to sati,/h2sfy your customers, such as by enhancing the customer service provided by your contact center agents, expanding your services to fill in any service gaps that have been identified, or finding better ways to address reported problems.
How Does Conversation Intelligence Help Companies?
Conversation intelligence helps to discover calls with opportunities, which immediately affects income.
Compared to the random sampling practiced by the majority of firms, conversation intelligence provides complete call monitoring.
With the press of a button, conversation intelligence allows you to compare the performance of your agents to the standards you specify.
Conversation intelligence identifies your agents' needs for coaching and training.
Conversational intelligence enables you to identify expensive errors quickly (like regulatory and compliance issues).
Conversation intelligence promotes cost reduction across quality functions.
Overview of the Process Used to Analyze Calls:
Your call recordings are provided to PCA, which automatically analyzes them using Transcribe Call Analytics and other AWS services to extract useful information like customer and agent sentiment, call drivers, entities discussed, and conversational traits like non-talk time, interruptions, loudness, and talk speed.
Using built-in ML models that have been developed using countless hours of talk, Transcribe Call Analytics finds problems. You may tag conversations using the automatic call classification feature based on keywords or phrases, sentiment, and non-talk time.
Additionally, you have the option to redact sensitive client information from both transcript and audio files, including names, addresses, credit card numbers, and social security numbers.
Initial steps to get started with Post Call Analysis:
1. Deploy AWS CloudFormation stack
2. Start PCA (Post Call Analysis). You can see details here: https://aws.amazon.com/blogs/machine-learning/post-call-analytics-for-your-contact-center-with-amazon-language-ai-services/
Once the setup is complete, you can access your Call Analysis details via a web URL:

You can click on each call and get analytics:
You can search for calls as well: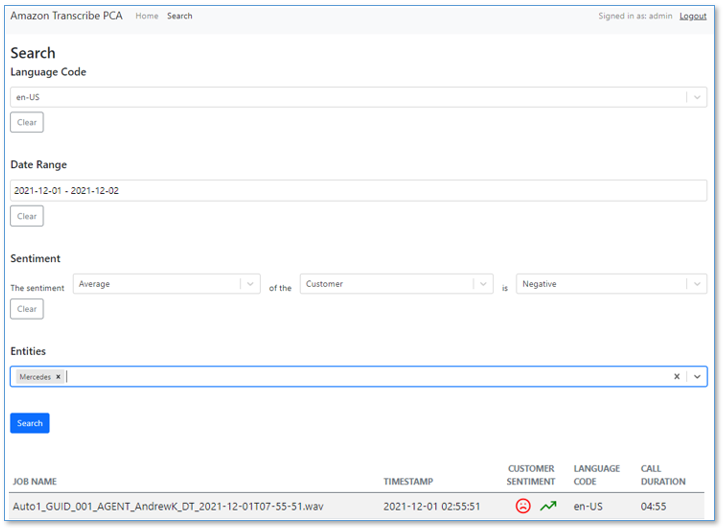 Apps4Rent can help you set up the Post Call Analysis for your calls and it does not matter what kind of PBX you use as long as you have the recordings. Get in touch with support available 24/7.