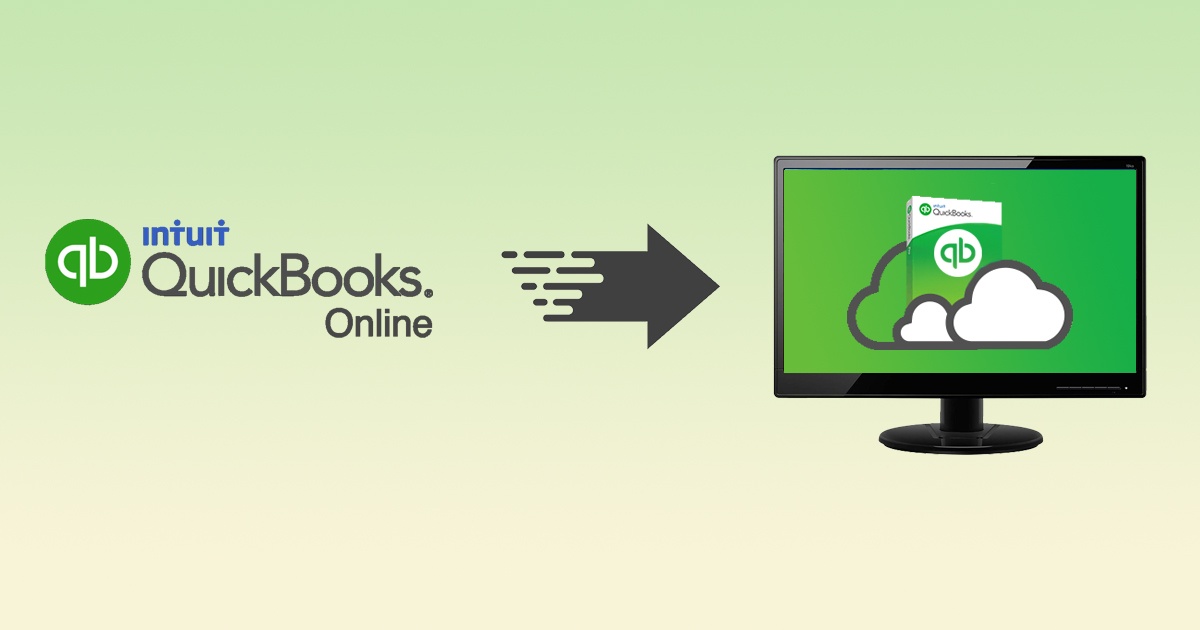 QuickBooks Online and QuickBooks Desktop are widely used versions of the same small business accounting software and are registered trademarks of Intuit. While they both help small businesses meet their accounting needs, they differ from each other in both form and functionality.
While QuickBooks Desktop is installed on servers and individual machines, QuickBooks Online is a cloud-based version of the accounting software that is accessible through the internet. The accessibility of QuickBooks comes at the cost of features. Convert QuickBooks Online to Desktop with the procedure we describe in the following section. Also learn why QuickBooks Desktop hosting is a better alternative for small and medium businesses with its distinct advantages.
Why Businesses Purchase QuickBooks Desktop
Although QuickBooks Online was rolled out much later than QuickBooks Desktop and doesn't have to rely on annual feature updates in major releases like the Desktop version, it misses out on some key components that are available on QuickBooks Desktop. In general, QuickBooks Desktop is more suitable when there is a higher volume of data to be processed and there is a requirement for a greater degree of specialization in terms of the accounting operations. With additional features in areas like data entry, job costing, reporting, inventory management, and accounting, QuickBooks Desktop has a clear edge over QuickBooks Online.
Advantages of QuickBooks Desktop over QuickBooks Online
QuickBooks Desktop is a better option for conglomerates and accounting services that require to maintain multiple company books. It is also a better option for product-based companies that need to keep track of inventories particularly the ones that are operational in one of the industry categories available in QuickBooks. Below is a summary of the major advantages of QuickBooks Desktop over QuickBooks Online.
Advanced Inventory Management
While QuickBooks Online provides only the first in first out (FIFO) method for inventory management, and that too only on select versions, there are two methods for tracking inventory with QuickBooks Desktop. The addition average cost method is available with the Advanced Inventory add-on module.
Industry-Specific Customizations
QuickBooks Desktop includes customizations for businesses in certain industries like manufacturing and wholesale, contracting, retail, nonprofit, professional services, and general business.
Batch Invoicing Method
It is possible to issue invoices in batches with QuickBooks Desktop which simplifies client servicing when there are multiple businesses involved.
Manage Multiple Accounts
A single QuickBooks Desktop installation supports multiple company files. This is, however, not true for QuickBooks Online which can handle only one company file per subscription.
Things Before Converting QuickBooks Online Into Desktop:
QuickBooks Online and QuickBooks Desktop have several variations that could cause compatibility issues.
It is ideal to use the latest version of QuickBooks desktop to minimize compatibility issues
Avoid exporting multicurrency data from QuickBooks Online to QuickBooks Desktop as it might not be displayed correctly
The conversion is to be done with Internet Explorer
Some records such as audit log and estimates may not be available on QuickBooks Desktop. These records can be exported as PDF
There are restrictions on the number of items like customers, vendors, and employees for different QuickBooks Desktop versions. You might have to upgrade when the limits exceed the permissible numbers
Apart from these factors, certain records from QuickBooks Online will be converted to their QuickBooks Desktop equivalent and some fields will assume default values in QuickBooks Desktop. Make sure that you familiarize yourself with the changes before migrating.
How to Export Your QuickBooks Online Data to QuickBooks Desktop?
Use Run as administrator option on Internet Explorer for configuring security changes
Add *.intuit.com to the list of Trusted Sites that can be accessed from Internet Options in Tools
Similarly, use the Run as administrator option for QuickBooks Desktop
Close all open company files in QuickBooks Desktop
Data from QuickBooks Online can be exported using the Export Data option
Install ActiveX, select the data that has to be exported, read about the limitations and continue
A confirmation mail will be sent once the export is complete
Select Continue to download and select Download in QuickBooks Online
Save the downloaded data to an appropriate folder on the local computer on which QuickBooks Desktop is to be installed
Some users might notice that the status bar isn't progressing for a prolonged period. It is normal for the export process to take several minutes up to a few hours. If the export takes an unusually long time to complete, select the Yes, prompt each time option on the Application Certificate and click on Done on the confirmation window.
Once the information has been exported, running the Profit and Loss report on both QuickBooks Desktop and QuickBooks Online should confirm that the books on both versions match.
The QuickBooks Online plan can be canceled once the export is complete.
Why Use Hosted QuickBooks Desktops?
If there was a technique to overcome the primary disadvantage of QuickBooks Desktop vis-a-vis QuickBooks Online, that is, the ability to access it using any device using the internet, it would surely give the former the upper hand for most businesses. Hosted QuickBooks Desktop is that solution. With hosted QuickBooks Desktop, the software is installed on a networked server of a third-party service provider through which the software can be accessed using any device with a web browser. Such a host can provide the required QuickBooks Desktop version including QuickBooks Desktop Pro, QuickBooks Desktop Premier, QuickBooks Desktop Enterprise Solutions, and others using Remote Desktop Protocol (RDP).
Apart from accessing any version of QuickBooks without capital investments, QuickBooks hosting service overcomes many of the shortcomings of both QuickBooks Online and QuickBooks Desktop.
These include:
Simultaneous access to multiple users to a data file on QuickBooks Desktop
Simplified file sharing capabilities with a real-time tracking facility
Better resource management
Reduced spending on infrastructure and management costs
Reliable security and data backup
The Apps4Rent Advantage
There are many benefits when you convert QuickBooks Online to Desktop. The benefits increase manifolds when QuickBooks Desktop is made available through the service of a hosting service provider. Not only do you get assistance with hosting setup and installation but also a range of other benefits like technical assistance with troubleshooting various issues. The host can even provide the required licenses for QuickBooks. Apps4Rent is a noted Intuit-Authorized Commercial Hosting Provider for all QuickBooks Desktop versions.
We provide 24/7 assistance via phone, chat, and email for all QuickBooks related technical issues along with guaranteed uptime. Contact our sales team to know how Apps4Rent can assist your business with QuickBooks hosting.