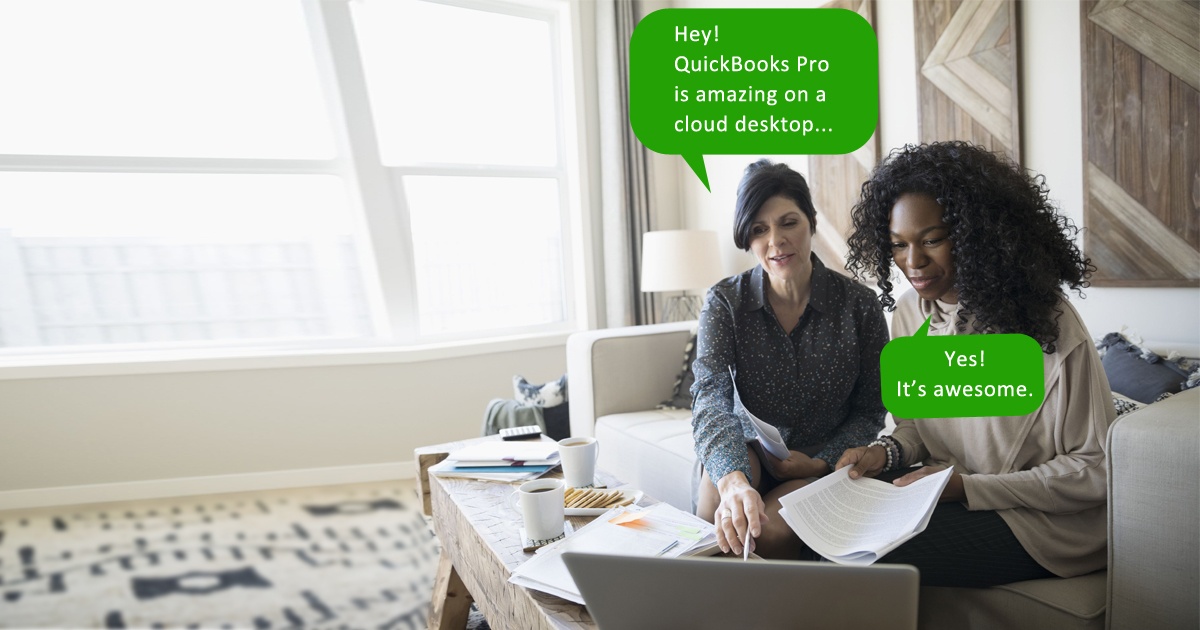 If you own a small or medium business with up to 3 users managing your accounts, QuickBooks Pro might just be the perfect solution. When you choose to move QuickBooks Pro to the cloud, you get even more flexibility with the already powerful suite
Quite often, it is the comparison between the different QuickBooks versions – Pro, Premier, and Enterprise – that confuses buyers because they aren't sure what QuickBooks version suits them. Check the QuickBooks Pro vs Premier vs Enterprise comparison separately.
In this blog, we will analyze the benefits of opting for a cloud-based QuickBooks Pro version:
1. Get rid of physical desktops
Moving your QuickBooks Pro installation to the cloud will free you from the dependence on local machines. As a business, you might have to work on systems that may not be able to run more applications than they already do. You have the choice of either upgrading the hardware (or software) of each of your workstations or install new applications on a virtual desktop. The advantage of this approach is multifold. Users can continue to run applications in the background while using QuickBooks Pro on their virtual machines. Additionally, the resource usage on the local machine will be limited to the requirement of running the virtual machine.
2. Enjoy the same look-and-feel
Many users prefer to use QuickBooks Pro desktop version over other online alternatives. Its flexibility is certainly an important factor that small and medium business owners like to have at their disposal. This is especially true in the case of businesses that have large inventories to manage. Moreover, the desktop version has been around for longer and has evolved significantly since it was first released. Consequently, many users find it more powerful in its classical native form than its online counterpart. With QuickBooks Pro hosting, users get the best of both worlds. The capability of the desktop version combines with the affordability of the QuickBooks Online version when hosted on the cloud.
3. Never lose your QuickBooks data ever
It is much safer to store accounting data on the cloud than on personal computers and local servers. Hosting services have dedicated servers that are protected against a range of threats that your business might not be able to handle in its capacity. Providers use a complex firewall and sophisticated anti-virus and anti-malware systems that provide enterprise-level security with your subscription at no additional cost. QuickBooks data is encrypted end-to-end so that it doesn't fall into the wrong hands. Besides, there are additional layers of security implemented through permissions to access accounts hosted on the cloud. Security is further strengthened by intrusion prevention and detection systems.
4. Be productive at all times
You need your QuickBooks whenever you need it. That's the whole idea of moving to the cloud. Thus, uptimes are extremely important when hosting QuickBooks Pro in the cloud. Intuit-authorized providers like Apps4Rent guarantee you 99.9% uptime. In other words, no matter what, you will not lose access to QuickBooks even when you're stranded in a remote location, given you have an internet connection and a smart device. You'll get data backups and multiple copies on different servers so that it is available even during maintenance.
5. Integrate popular third-party applications
As powerful as it is as a standalone application, QuickBooks Desktop applications can easily be integrated with third-party apps for enhancing its functionality. Commonly used applications like MS Excel add value to QuickBooks Pro by simplifying tasks. It is possible to install applications compatible with QuickBooks on the same virtual machines without additional load on the local desktops or servers. With this facility, data can seamlessly flow to and fro the connected applications without any lag. It is easier for them to run synchronously on a dedicated machine than on a desktop with several applications running in parallel. By doing so, users can continue to leverage the existing workflows to automate tasks.
Want to move QuickBooks Pro to the cloud?
If you are using QuickBooks Pro on your local machine, we recommend you try hosting it on the cloud desktop. Try it risk-free due to our 30-day money-back guarantee. If you like it, continue it. If not, you're free to cancel it anytime. No questions asked.
Apps4Rent is one of a handful of Intuit authorized QuickBooks Solution Provider (QSP). If you want to host any version of QuickBooks to the cloud, contact our experts now!